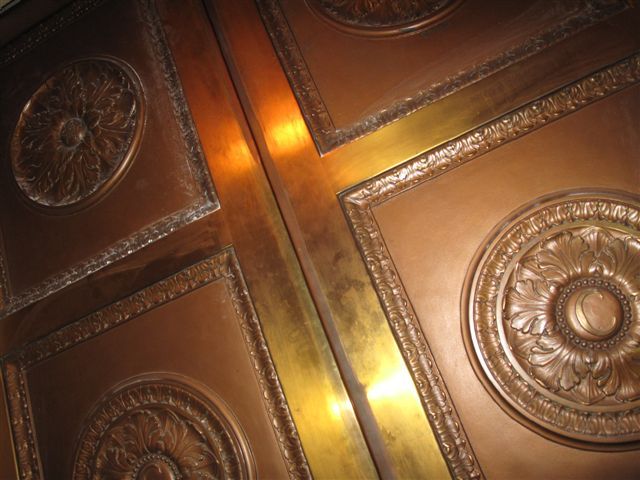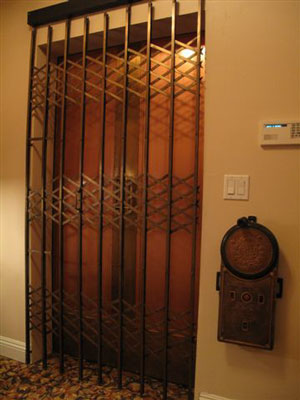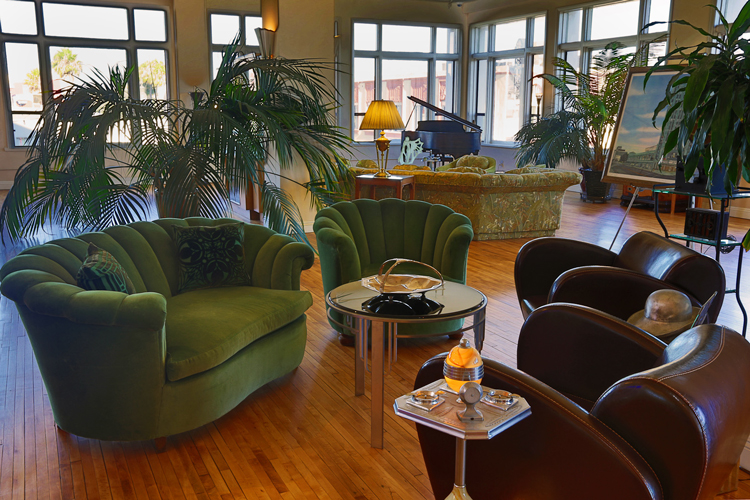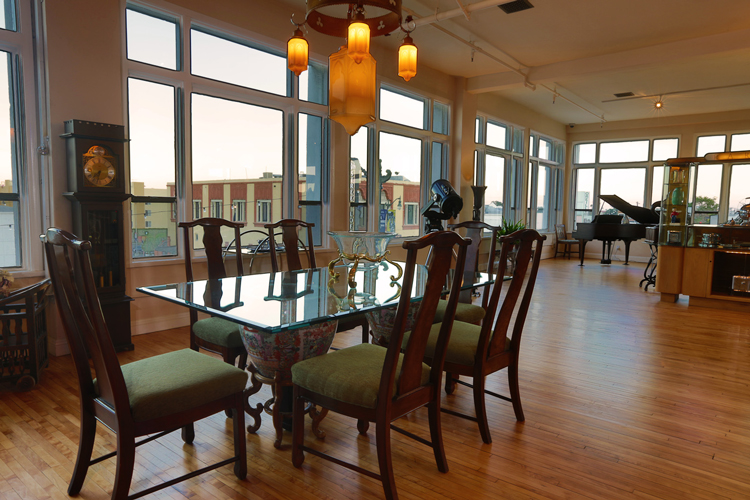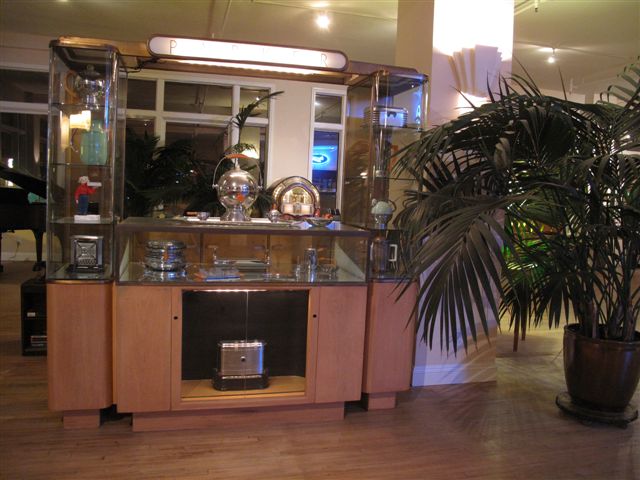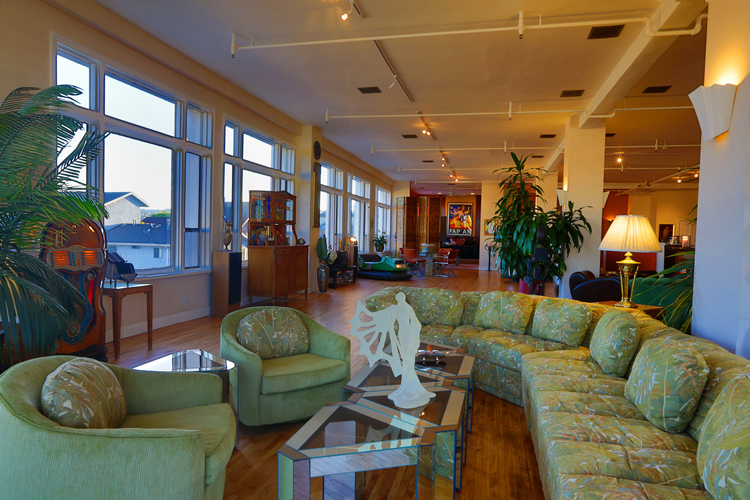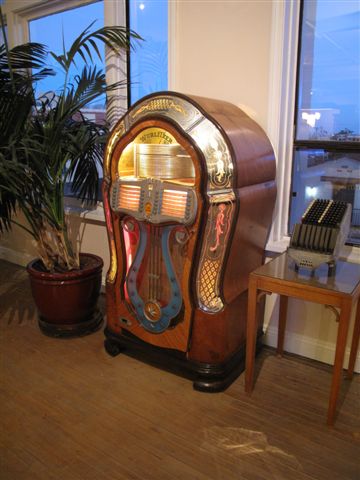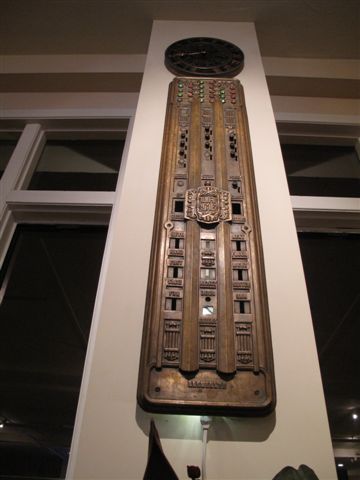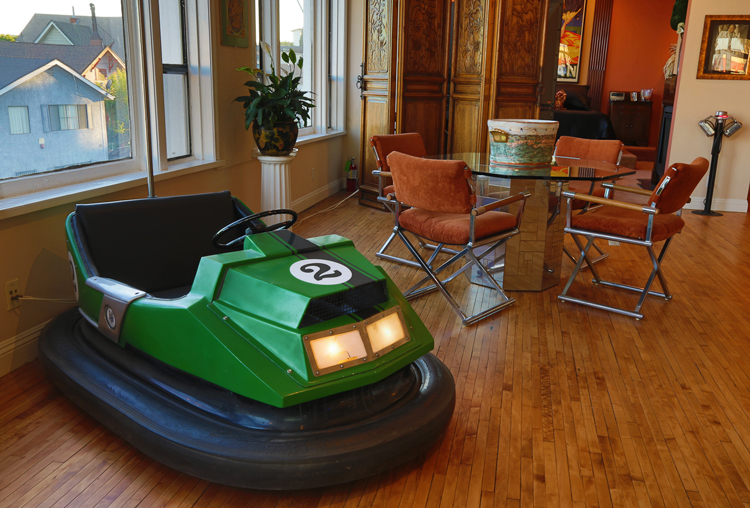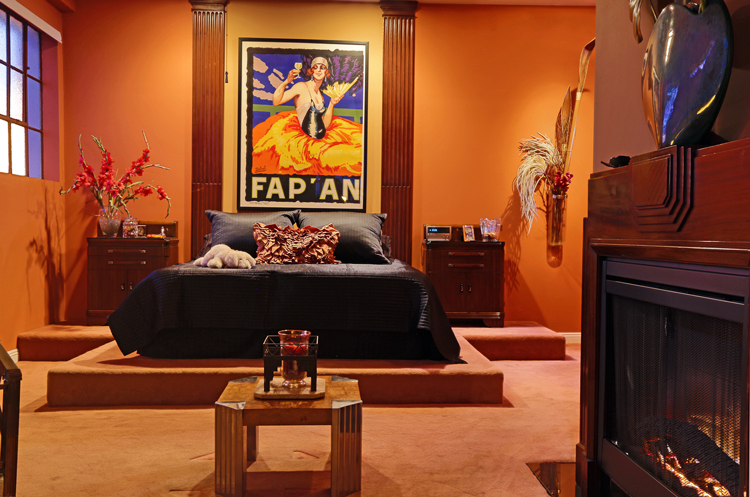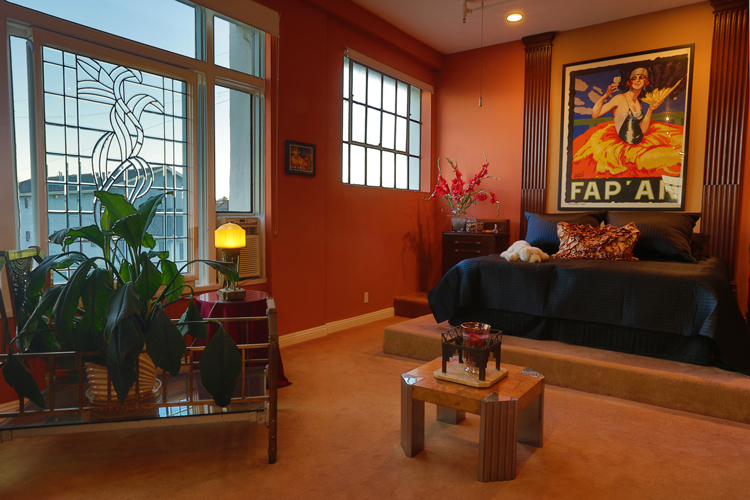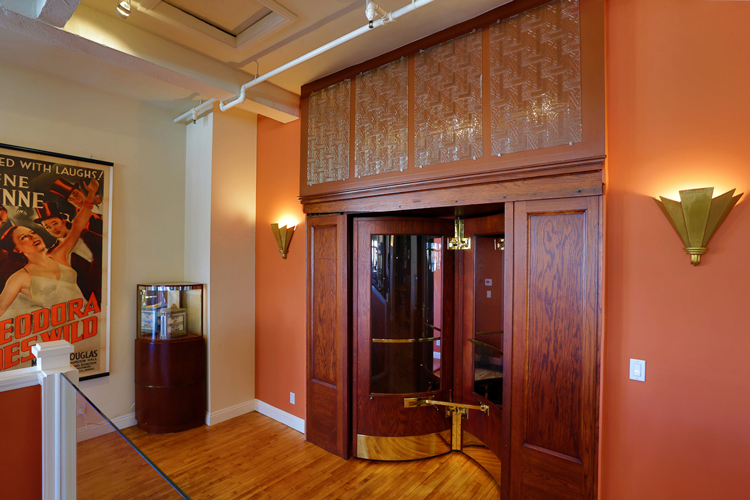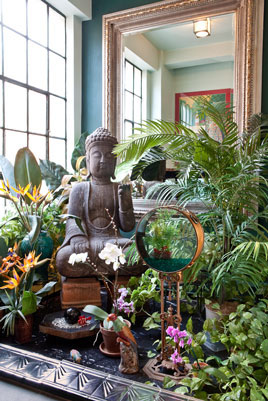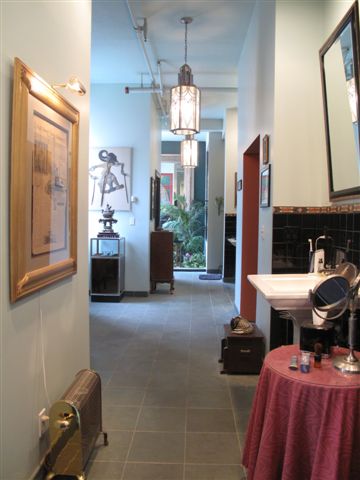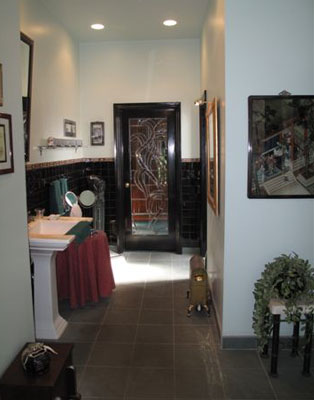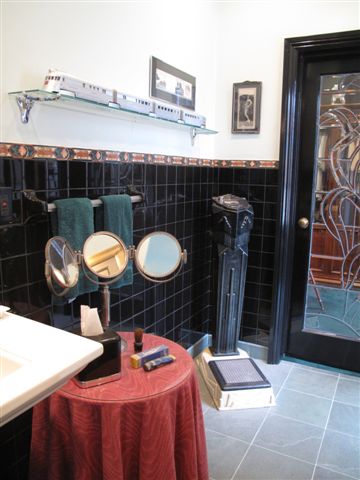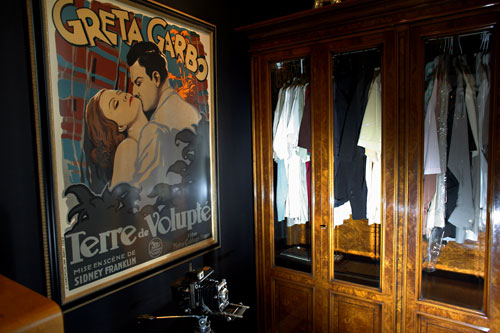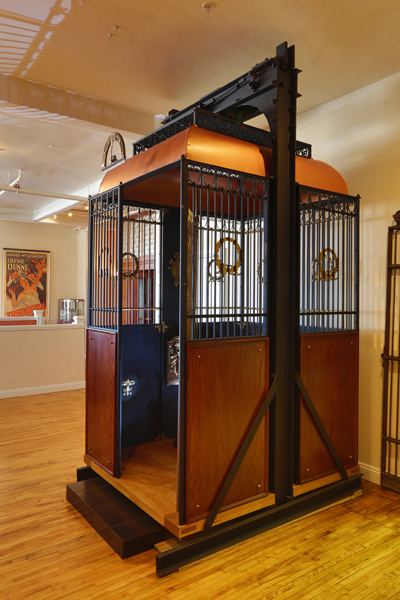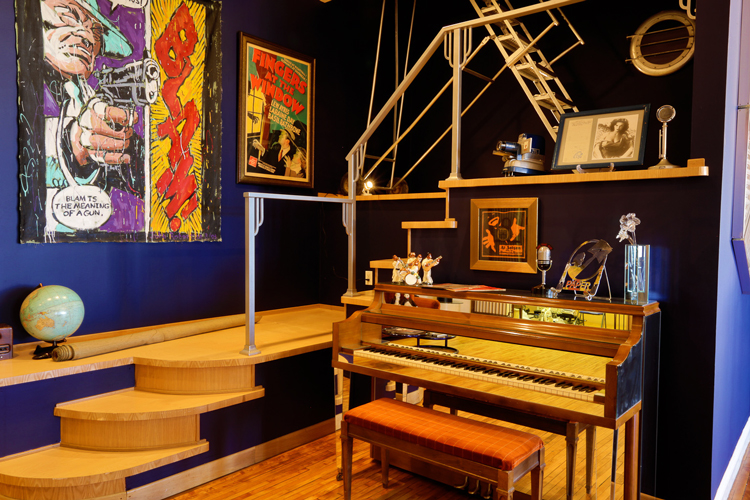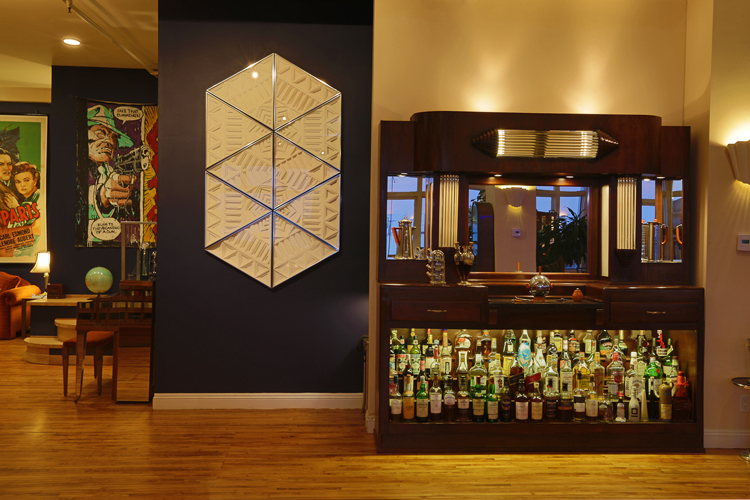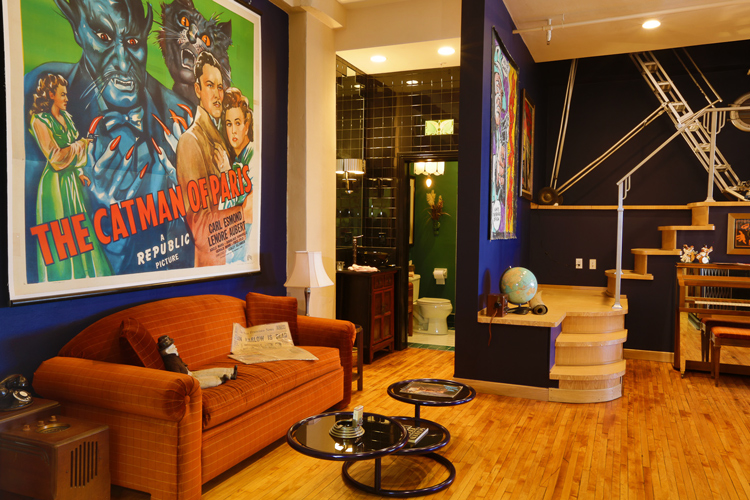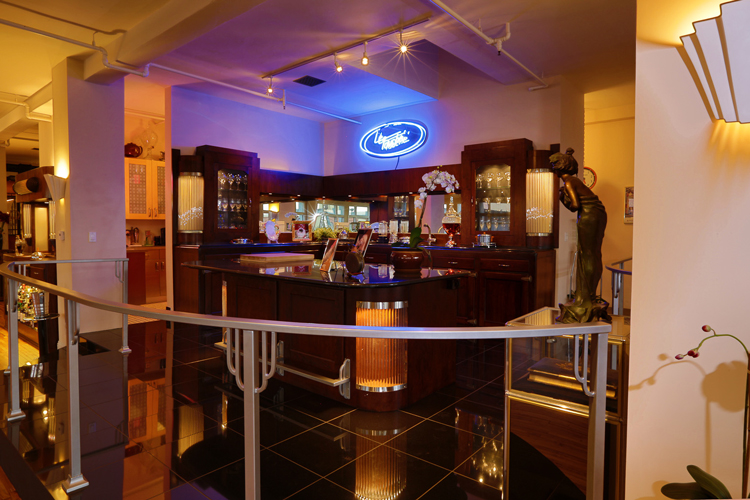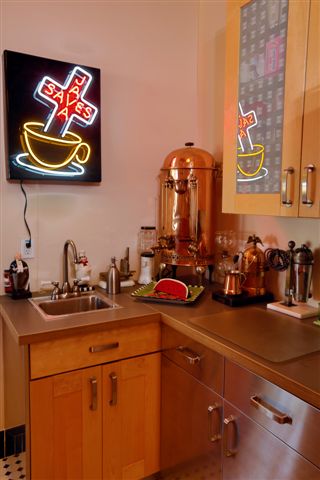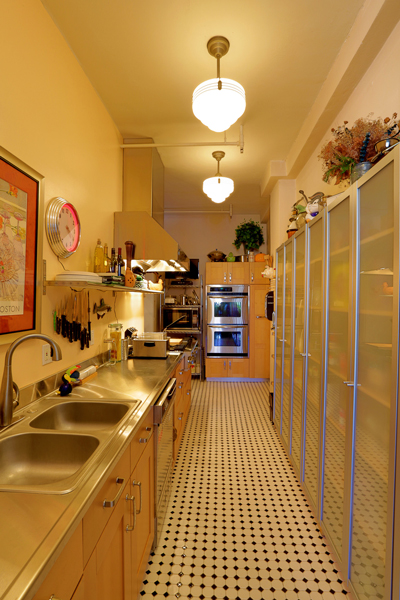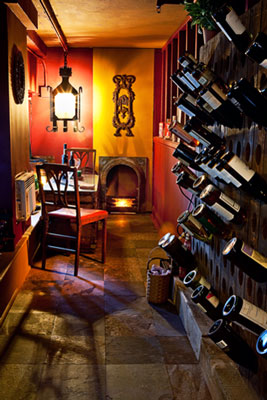 741 S. Pacific Avenue, San Pedro, CA (Penthouse Residence & Train Club Car)
Entrance to the penthouse loft is through cast bronze elevator doors originally from the Cooper Building in Los Angeles.
The residence is an open, expansive space of approximately 7,000 sf. and includes a mezzanine level "Train Club Car", and wine cellar. The Loft is comprised of one bedroom, two kitchens, an exercise/laundry room and two bathrooms. The Grand Staircase and hardwood floors are original. The front kitchen cabinetry is part of an Art Deco bar from an old hotel in Atlanta, GA (1920's – 30's). The back kitchen is a contemporary, gourmet kitchen decorated with a variety of food related antiques, resembling a diner with surfaces finished in stainless steel.
The seating and dining areas are open space, spotted with Art Deco antiques such as: a Parker Pen display case, Wurlitzer Juke box, elevator operating panel from the Los Angeles Stock Exchange, bumper car from Pacific Ocean Park, an original Lusse' bumper car (1920's), and a German Art Deco Grandfather clock (1920's).
Revolving doors of curved glass, wood and brass, originally the entry doors to the Westclox Factory building, Peru, ILL, take you into the master bath and closet. This area is highlighted by movie theatre chandeliers and light fixtures, and meditation garden.
An old Otis Birdcage Elevator stands as a decorator piece in the guest/living quarters. The Art Deco staircase to the roof garden, is enhanced by a boarding ladder for a B-52 Bomber.
The staircase leads to a long, narrow, lower level mezzanine accessed by a vintage stainless steel subway door from the New York Transit Authority. This room is now a 1930's-1940's Art Deco style Train Club Car. The end of this room leads to a temperature controlled wine cellar.
There is also access to the Penthouse residence via a 1930's Otis Freight Elevator.